October 19, 2018
(Vegan) fish n' chips
#cuisineravecrise

We all know the feeling: wrapping yourself in a comfy blanket, sipping on hot chocolate in the living room in front of a Friends episode (or Breaking Bad. Or SpongeBob Squarepants, if that's your style), wearing those ugly-yet-so-soft socks your family gave you last Christmas.
Chilly season is cozy season, and nothing screams comfort more than a warm and scrumptious dish that you can feast on over and over again.
Our collaborator Olivia Gov from Olivegan Foods came up with a remastered version of a classic when times get chillier: fish n' chips. Enjoy!
****
What a great day it was when I found out I was able to "veganize" one of my favourite meals. I cannot wait to share this tastier and better alternative to fish n chips. For this recipe, I used eggplants instead of fish. Once fried, you'll see how it shreds and resembles the texture quite well. Also, for the batter, I replaced the beer by kombucha: it is a great option for those with celiac disease!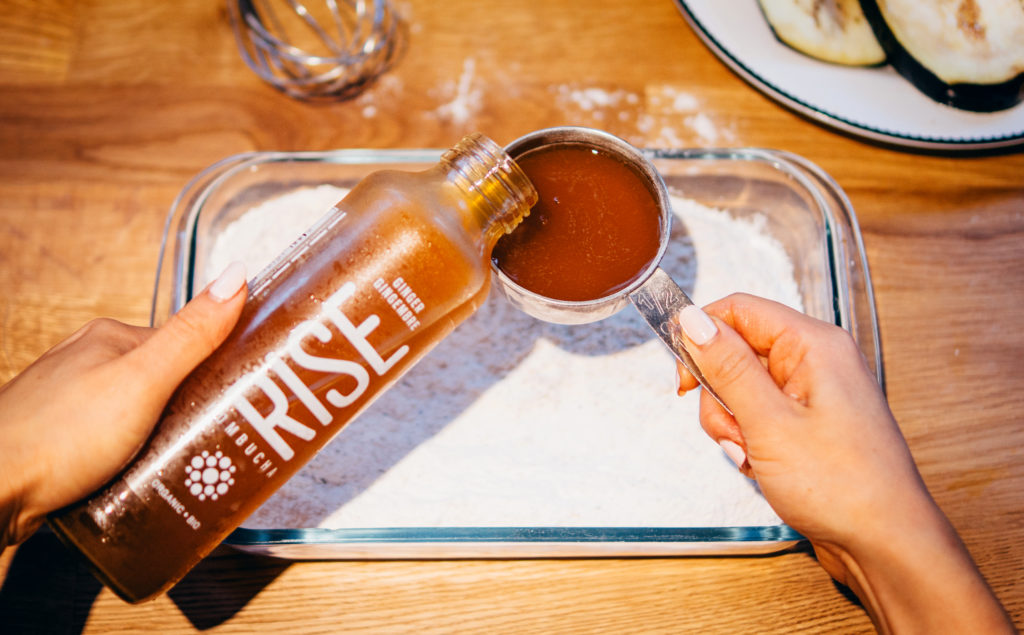 For this recipe, you will need
1 big eggplant (cut into ½ inch slices)
1 bottle of RISE Ginger Kombucha
1 ¾ cups regular or gluten-free flour
1 tsp kelp granules
1 tsp garlic powder
1 tsp of onion powder
½ tsp of paprika
½ tsp of dill
Salt & pepper
Instructions
1. Coat your sliced eggplants with salt and let them sweat while you prepare the kombucha batter.
2. Pour the RISE Ginger Kombucha in a long casserole dish.
3. Sift the flour with the kombucha.
4. Whisk gently and add the garlic and onion powder, paprika, dill, kelp granules and salt & pepper.
5. Rinse, pat dry and dust your sliced eggplants lightly with flour before coating with the RISE kombucha batter, and fry them at 375 degrees. Turn them over frequently until they're golden (should take about 4-5 minutes).
* to keep them crispy, leave them in your oven at 225 degrees until serving time.
6. Serve with fries and tartar sauce
Bonne appetite!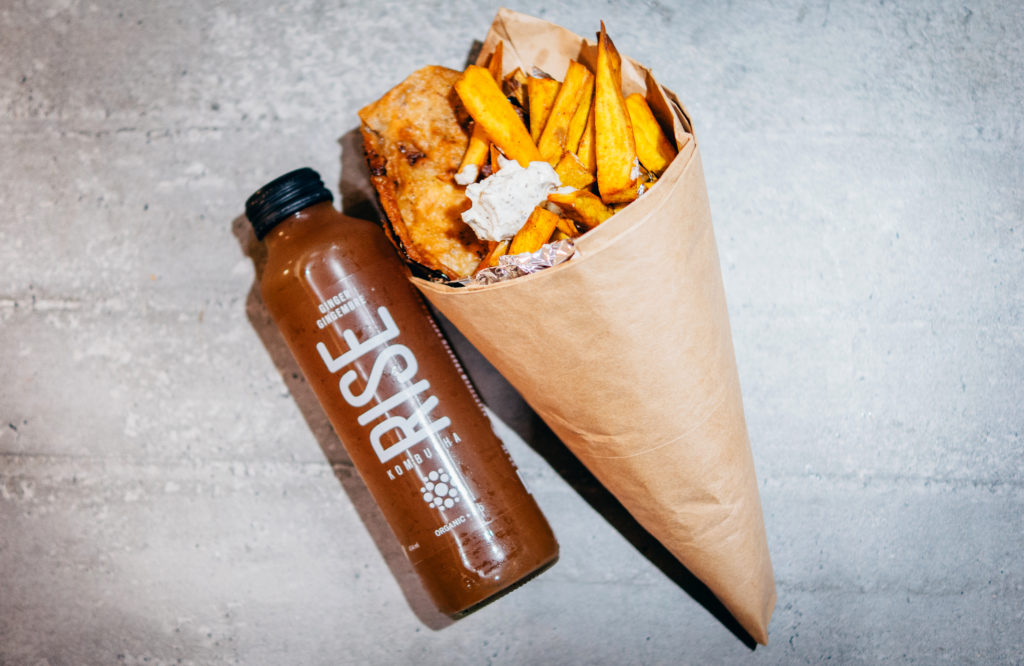 Photo: Alex Lépine