October 10, 2018
S(peach)less and Hibiscus Madness, the Festival Végane de Montréal's RISE cocktails
#cuisineravecrise

It's in a colourful and urban universe that the Festival Végane de Montréal's 5th anniversary will take place on October 19, 2018.
To properly underline what will surely be an eventful birthday, RISE decided to join the party by proposing two signature cocktails created by the talented mixologist Amélie Watelle.
Want to show off your barman skills? Then roll up your sleeves and get your groove on by making these oh-so-delicious bubbly drinks. Your buddies' palettes will be amazed, promise.
HIBISCUS MADNESS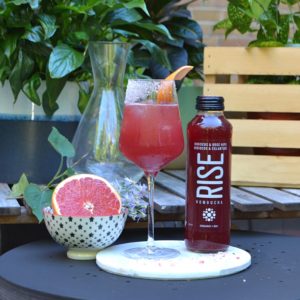 "I got inspired by the kombucha's natural flavours. For RISE Hibiscus & Rosehips, I wanted to amplify its floral touches by adding the grapefruit juice and the Campari. The result is extremely refreshing and a little bitter."
For this recipe, you'll need:
1 oz of Tequila Silver
1 oz of Campari
1.5 oz of grapefruit juice
0.5 oz of lime juice
1 oz of simple syrup
4 oz of RISE Hibiscus & Rosehips
S(PEACH)LESS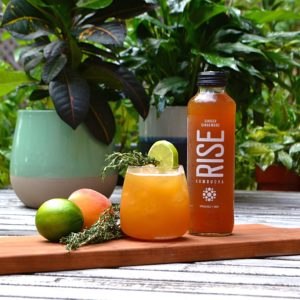 "I wanted to highlight this season's best ingredients, and RISE's Ginger flavour perfectly balances the peaches' sweetness. Absolutely delicious!"
For the recipe, you'll need:
1 oz of vodka
1 oz of Cointreau
2 oz of peach and thyme puree (see steps and ingredients below)
4 oz of RISE Ginger
For the peach and thyme puree, you'll need:
5 ripe and peeled peaches
Juice of 2 limes
8 to 10 branches of thyme
1/2 cup of granulated sugar
1/3 cup of water
Let it simmer for 20 minutes, remove the thyme branches, then pour the mixture into a blender.
Oh, and by the way…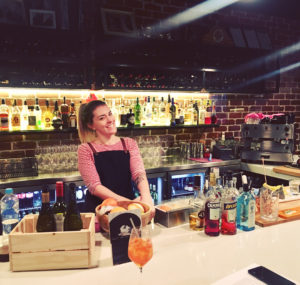 Quick FYI: according to Amélie, kombucha is a great mixer for cocktails. "The flavours are original and inspiring when it comes to creating a drink. Also, its fizziness can replace all those sugary sodas that are usually used in cocktails."