February 25, 2019
RISE COLLAB OF THE MONTH: JAMIE SMITH
#growingwithrise

What does thriving mean nowadays?
Is it about fulfilling your dreams as an individual? Running a successful business? Being all about the greater good of our society?
For Vancouver-based artist and THRIVE Art Studio founder Jamie Smith, thriving is a question of giving everyone the same opportunity to rise on their own. By changing the way we work as a community, we're in a better shape to thrive as a society, and to help its members flourish in their own way. For THRIVE, it's all about helping their artists grow in the right direction, whatever that direction is.
And that's precisely what Jamie delivered in her RISE-inspired piece: a beautiful floral illustration that highlights natural growth, and how RISE Kombucha is always there to help you put your best self forward.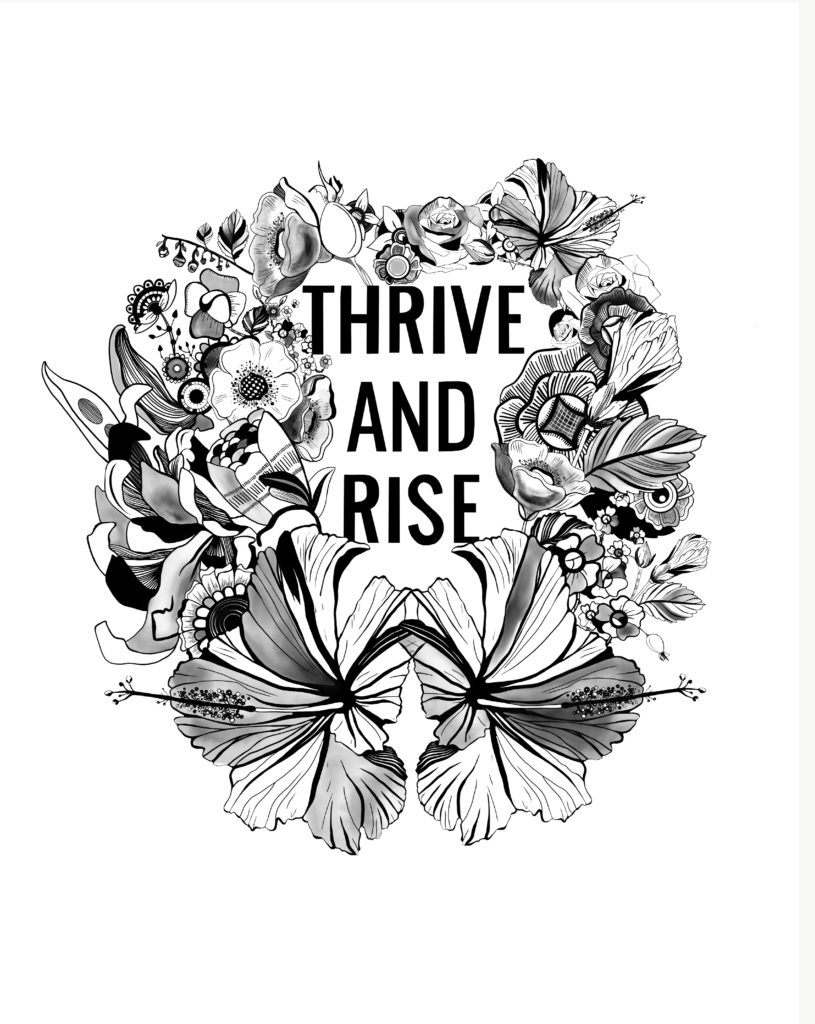 What was your initial inspiration for this illustration?
It started with the phrase "THRIVE & RISE"!
I run THRIVE Art Studio and our mission is to make being an artist less lonely. We provide community and support for female, non-binary, gender fluid and gender queer artists. We are a community of over 200 artists and our motto is "Do The Work" as we see this as the only way to truly to reach our goals. This Christmas, I created a text piece with our motto in the middle and flowers all around for my beautiful co-founder Tara Lee Bennett for her present.
I loved it so much that I wanted to create another text piece for this collaboration with RISE Kombucha. I thought a lot about what the phrase "THRIVE & RISE" meant to me. To me, it was all about being given the opportunity to succeed and truly thrive, no matter what gender, abilities, skin colour or background we have.
What is your creative process for a project like this?
I kept thinking of the bubbles you feel on your tongue when having a sip of kombucha! I started by drawing studies of real flowers, textile patterns, Mexican tunics, Hawaiian leis and more. Then I began layering the plants and building out the composition around the text to give that sense of growth and thriving.

Creativity involves being consciously connected to your mind, body and feelings. How do you stay mindful and engaged with yourself?
The more conscious we are of ourselves the more conscious and present we can be for others. Unfortunately, we have so many distractions around us that are trying so hard to pull us into other people's lives and making us dull to our own minds and bodies. This means I focus on being very conscious about what I am allowing into my mind and seeing around me. This includes trying to limit my time on social media and I only following and engaging in content that uplifts me and my values.
Wellbeing is a raw ingredient for productivity. Do you have a daily ritual for health and happiness that helps get your creativity flowing?
For me, daily wellbeing requires giving myself permission to be happy and healthy, I find it a daily choice. Sometimes I choose right and sometimes I still have work to do.
I have an exercise routine that helps keep me grounded in the physical world. With THRIVE I spend so much time on the computer and in my art practice I am fully in my head with ideas and concepts. I find exercise is one of the few times in my day where I cannot ignore my body and there is nothing like feeling strong!
How does RISE inspire you?
I am inspired when businesses show their values in how they create their product, art, space and community. I think where I spend my money speaks to my values and what I want more of in this world, and so I try and centre my choices around that. RISE hits my criteria of a company that is conscious socially and ecologically, tastes amazing, supports creatives and a bonus is they are right here in Canada!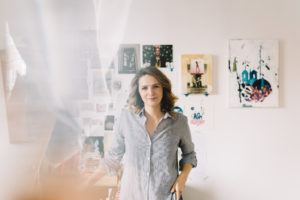 Like Jamie's style? Discover her work right here!
Instagram
Website