February 1, 2019
WINTER SALAD WITH BOOCH VINAIGRETTE
#cookingwithrise

Post by our collaborator Olivegan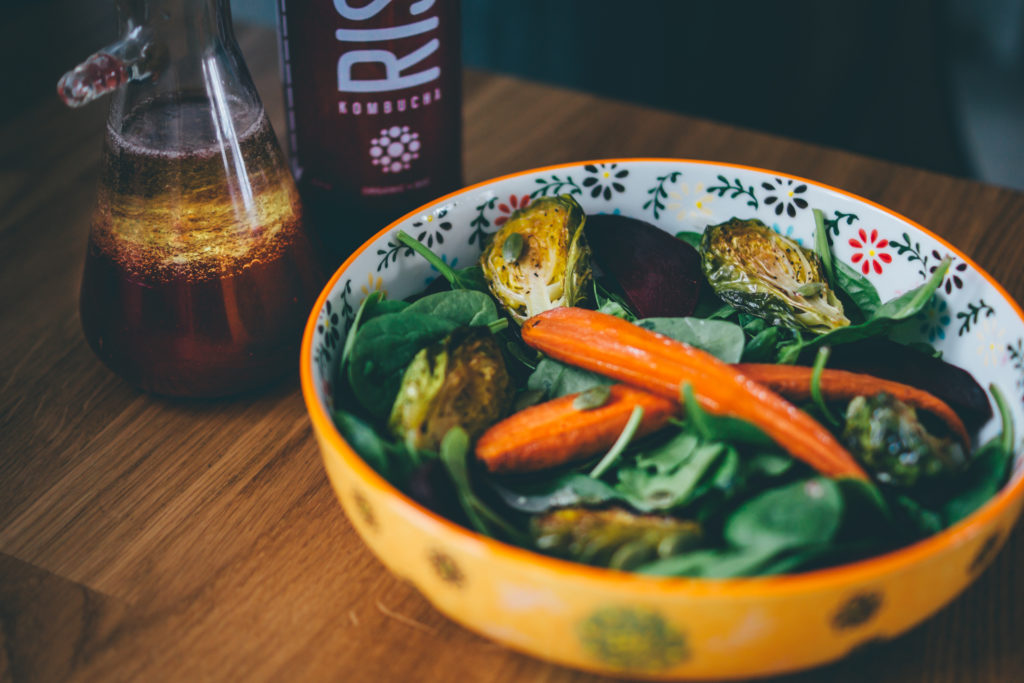 Winter is here! While some of us don't mind fattening up, others are trying to start the new year on a healthy note. Now, I know salads are more of a summer thing, but we've got so many delicious seasonal vegetables: we need to give them some love! For this recipe, I chose my favourite roots and greens to create this hearty healthy meal: brussels sprouts, carrots, beets and spinach. Once tossed with this tangy and sweet RISE Kombucha vinaigrette, you won't eat a boring salad ever again!
After your vegetables are rinsed, peeled and cut into bite sized, coat them in oil and add salt and pepper to taste. Spread evenly on a large roasting pan and roast at 425 degrees for 30 min (stir every 10 min)
For the vinaigrette, any RISE kombucha will do. I chose the Hibicus & Rose Hips simply for the vibrant colour.
Combine:
1/4 cup of RISE kombucha
2 tbsp of water
2 tbsp of maple syrup
1 tbsp of Dijon mustard
3/4 cup olive oil
Salt and pepper
Drizzle on your salad and enjoy it with any other veggies and toppings. This is your chance to play with vegetables you don't usually eat, add nuts or seeds for crunch, add fruits for sweetness… let this vinaigrette stimulate your imagination and create your salad to get through this winter!